Ah well, in California one never knows for sure. One week after the September 14 post below, we had rain, heavy at times. Thank goodness, most of the roofing was on, and we had only a few spots of floor that were drenched. It could have been worse.
For now, we are at the phase of construction where some things go very fast. The roof is on, the windows are in, the exterior doors are there, and we're almost buttoned up. Today, the exterior plasterers (stucco) people were slapping chicken wire all over the exterior, and the gypboard guys were slapping their stuff all over the inside. This going very fast.
Today, 2 pm, partly cloudy (fog remnants), about 70F.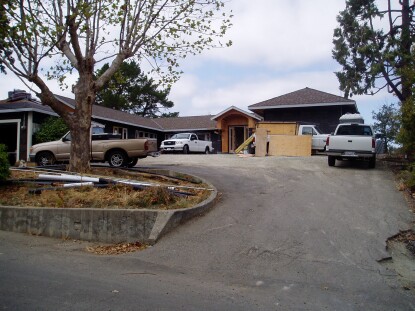 And, for those who know the Piedmont manse, you will quickly notice that HiltonHouse is quite different. Here's a shot of the living/dining area under construction. Quite a difference!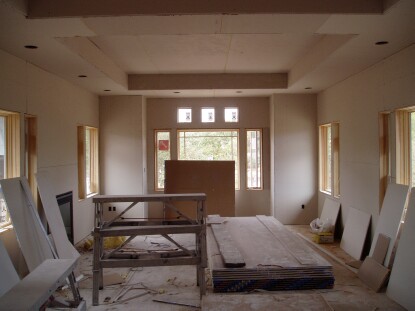 Those are Mieko's 3 square windows over the main window. Ask her about them (she's very proud!) :-)
More later. . .