The nice thing about Sundays is that the HiltonHouse site doesn't look like a parking lot for white pick-up trucks. (And, why are most pick-up trucks white, these days?) Anyway, this noon we swung by the project to record the progress. Below are two shots, one today, and one back in May of this year. Note that the tree out front appears unchanged.
TODAY: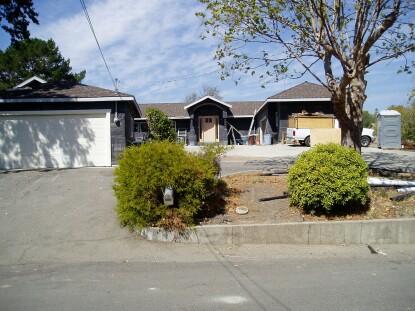 LAST MAY: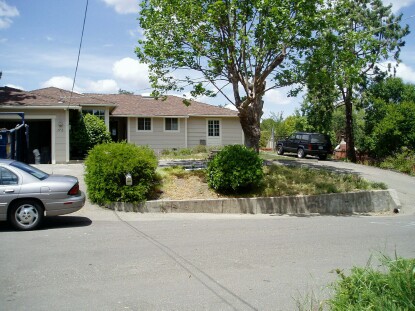 We have provided, on the left, a wing of the house that can be a separate one-bedroom place. This is a photograph of the living area (studio kitchen is behind the camera on the right.) Not bad at all: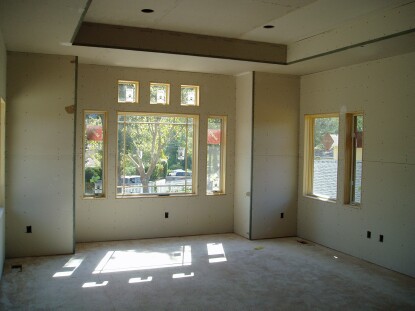 And this is the view of the back yard, overlooking the adjacent new subdivision in Lafayette (we're in unincorporated Contra Costa County.) The bright spot on the right is reflection of the flash off the window. and I'm sorry for that.
Now, a few non-construction notes from the weekend.
1. We are blessed in the Bay Area by having big-time, exciting, sports teams. Athletics and Giants, Raiders and 49ers, Cal and Stanford. Wow! What exciting, winning teams! (Well, at least Cal won on Saturday.) And San Jose State beat Rice 70 to 63. . .that's football, not high school basketball.
2. We attended a wine tasting Friday evening. Big, earthy reds, complex, musty, just enough tannin to hold hope for the future. These, my friends, were ALL recent (2000) California Sangiovese specimens, and I was truly impressed. They were procured at Solano Cellars in Albany, moderate cost ($12 - $24) and if you're in the neighborhood, do drop by. You won't be disappointed.