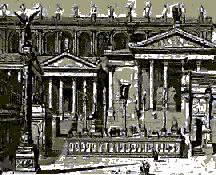 All last week during the Alito (NOT "Alioto") hearings I was puzzled (I sound like Sen. Biden here) by the pronunciation of
"stare decisis."
(I have had a bit of Latin in my earlier years.) So I googled it and, ah ha!, I was correct. See
All Empires History Forum: How to pronounce Roman names (Latin Pronunciation Guide)
Quoting from therein: Neo-latin terms in Classical Pronunciation
Alumni: Alum-nee
Alumnae: Alum-nigh (i and ae pronunciation swapped between C. Latin and English)
Stare Decisis (law term): Star-reh Dee-kai-sis (English: Stair-ree, Da-cy-sis)
Dies Irae (day of Wrath): Dies Ir-rye (Church Latin: Dies Iray)
Sub Poena (law term): Sub Poe-ena (English: Sub peena)
Neat, huh? I do find these language things interesting.