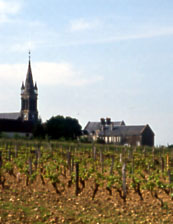 Interesting wines accompanied our authentic, traditional Japanese food at dinner this weekend. Usually I am a fan of California wines, both red and white, for reasons of parochialism, price, and proximity.
However, there are times when overseas offerings have made their presence felt, and this was one of those times, with examples from France and from Italy.
Pouilly-Fume, from the Loire Valley, (that's a castle-in-a-vineyard up above) is a memorable white wine, strong, buttery, and impressively heavy in taste. This was from the Villa Paulus, but I have another version to try soon at another occasion. I look forward to it.
Valpolicella by Villa Bella is a deep, fruity, complex red from the province of Verona, Italy, east of Lake Garda. This bottle was labeled "Classico Superiore" where the label
SUPERIORE
indicates a 1 percent higher minimum
ALCOHOL
content and an age of a minimum of 1 year. The best wines are generally those labeled
CLASSICO
, which indicates that they come from the inner classico zone with its steeply terraced vineyards. See the adjacent photo for a pic of the area.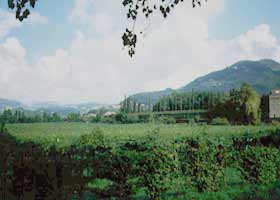 Similar wines are easily available at better wine shops and upscale supermarket aisles for $15 - $25.
(UPDATE)
Just for variety, we ended the evening with a small tumbler each of "Shochu", a distilled(not fermented)rice drink that will knock your socks off, which it did.